Choose the right package
to get started
Shopkeeper
or £995 annually

All features, everything you need to get your web shop live and selling products

---

2 users

1 Public Shop or 1 Private Portal

No setup fees

Online Training Programme

1 hour webex support*

12 month subscription

Cancel anytime*

---

*Try Risk Free. Cancel anytime in your first 90 days. Additional webex support charged at £59 per hour
Shopkeeper PRO
or £1,995 annually

All features plus advanced back office tools to grow your business and manage client relationships

---

10 users

1 Public Shop and 1 Private Portal

No setup fees

Online Training Programme

2 hours webex support*

12 month subscription

Cancel anytime*

---

*Try Risk Free. Cancel anytime in your first 90 days. Additional webex support charged at £59 per hour
What's included in every plan?
All plans come with these features

full commerce
Fully functioning ecommerce platform with product selection, file upload and full checkout
Product catalogue
Ready to sell signage, wall graphics, posters, printing, promo items, displays and more

Your brand
Set your own colour scheme and fully brand site with your name, logo and colour scheme
Domain name
Use your own domain, create a new store domain or use your existing domain name
SSL certificate
Keep data and transactions secure with website SSL certificate included in your subscription

Unlimited pages
Create your own landing pages, to aid search engine optimisation and user experience

Client order history
Clients can check order progress amend their details and download invoices

Easy re-orders
Every order is archived and can be re-ordered in seconds. Saving your team hours in a week
Built for mobile
Responsive pages that reflow on smaller devices like mobile, tablets and desktop by default
Back office
Manage workflow and process orders in powerful w3p back office 

File uploader
Allow customers to upload graphic files with each basket item
Automatic file thumbnailer
Generate thumbnail previews of client-supplied files as they're uploaded
Mini basket
Show number of products and total order value in top menu bar
Real-time visibility
Get notifications as soon as a user adds items to their basket
Customer address book
Customers can save delivery addresses to make future orders faster
Save payment cards
Securely store customer payment cards for rapid checkout

One million products
Over ten thousand pages of product content automatically generated
Your pricing rules
Set price rules for your whole shop or by individual product category
Product selection
Select which products to sell and turn off whole categories, or omit selected products
Dropshipping
Ship products directly to your clients from our factories
Make prices private
Optionally require visitors to register before they can view prices
Shipping included
All products include shipping within the UK to avoid basket shock

Take card payments
Connect your shop to your bank account in minutes, powered by Stripe
Stripe integration
Connect your existing Stripe account or sign-up for a new one (no additional monthly fees)
Paypal integration
Connect your PayPal account for faster checkout
3D Secure 2 (3DS2) ready
Works with two-factor authentication as required by law

UPGRADE FOR THESE PRO FEATURES
Upgrade to Pro today and get 3 months free trial
At the end of the trial you can downgrade to Shopkeeper plan
Drag 'n' Drop Control Desk
Kanban style visual workflow, to assign tasks and process orders
Customer relationship management
Full order history, reporting suite and client marketing tools
Go Cardless integration
Send mandates and automatically collect payments by Direct Debit

Generate invoices
Automatically send invoices with your logo and contact details
Send customer statements
Schedule weekly statements showing outstanding payments
Recurring payments & subscriptions
Set-up weekly, monthly or annual recurring subscriptions
Credit accounts
Set credit limits and payment terms for individual customers
Credit limit management
Block orders when customers breach their payment terms
Digital Asset Store
Share logos, files and images with clients in secure folders
Online proofing
Send digital artwork proofs for client approval or change requests
Preflighting & Filecheck
Automatically FileCheck client files with 82 point check
Share FileCheck Results
Send results of FileCheck to clients to approve or replace files
Stock photo library
Over 100m vectors and images from DepositPhoto library at lowcost
Client lightbox
Two-way lightbox to share photography ideas and speed up selection process
Reporting & Analytics
Segment and analyse customer spend or order frequency and export data
Do more with your shop using our upgrade packs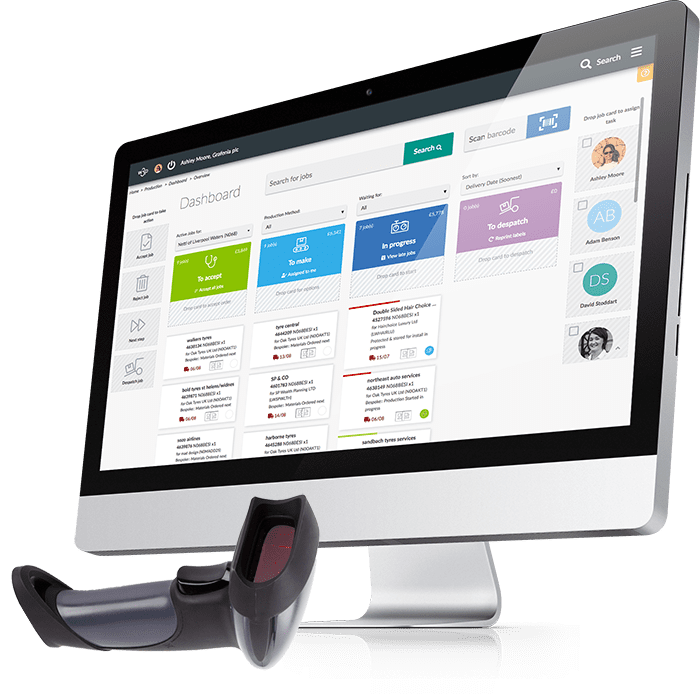 PRODUCTION PACK
Sell your own products or manage your production workflow
£995 setup and additional £200 per month
Upload your own products
Create your own products using our step-by-step wizard
Product importer
Batch import your products and fetch images from a spreadsheet

Product options
Set product-specific choices, with additional costs or turnarounds

Production workflow
Create routes through your production and must-do critical paths
Production dashboard
Kanban style workflow for your production department

Shipping labels
Print packing slips, barcode flows, worksheets and generic shipping labels

Make files print-ready
Automatically add crop marks to files you'll be printing yourself

Production API access
Retrieve and process orders automatically using P-FLAPI JSON API
Track every order live
Assign steps to team members and track every order's progress in real-time
TEMPLATE PACK
Build online editable templates for clients
£995 setup and additional £200 per month

Online template editor
Allow clients to edit designs online using just their browser
Sell designer templates
Add 10,000 industry specific design templates from TemplateCloud.com

Create branded client templates
Setup editable templates for corporate/multi-site client
Google fonts and fonts.com library
Thousands of fonts properly licenced for server use, from Linotype, ITC, Monotype and Google
Build design templates from InDesign
Create editable templates using Adobe InDesign – no developer skillset or other plug-ins needed

Set design rules
Set rules to allow or restrict users from changing fonts or content

Print-ready PDFs
Templates turn into print-ready PDFs on checkout and drop directly into the order

Active update fields
Automatically fill user's contact details as templates open, with simple merge fields
Advanced permission levels
Set which users can see which templates and give clients their own admin rights
PARTNER PACK
Become a Nettl partner and sell websites, SEO and much more
£1,995 setup and additional £200 per month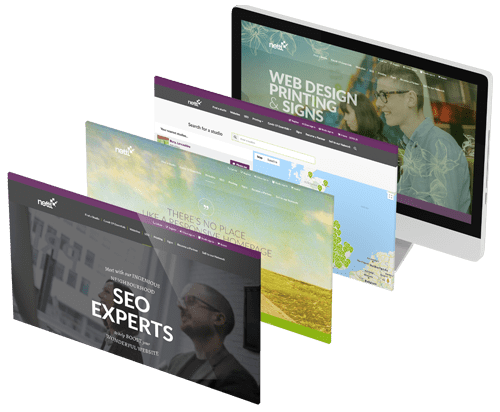 Build websites
Easy install of popular platforms like WordPress, WooCommerce and Brambl
Sell SEO packages
Our geeks take care of all the heavy lifting, leaving you time to manage client relationships

Offline and online marketing
Extensive library of mailers, brochures, ehots and catalogues to help you sell more
Geographic exclusivity
Be the only Nettl partner in your territory and get listed on nettl.com
Advanced cross media tools
Projects, proposals, tasks and all the tools your team need to manage web projects

Automated Marketing
Printed and digital campaigns sent automatically on your behalf

Sales training
Get more from your team with our online training and coaching across multiple topics

Access to Nettl geeks
Get help with website design issues with our in-house technical support team
Outsource web design
Sell websites and let our Nettl creators design them on your behalf
Try it yourself. Free setup.
No credit card required.
Design your web-to-print store in three easy steps.